Lazeeva, an adult entertainment company based out of Germany, surveyed more than 450,000 people across the world to pinpoint the top 100 most "sexually positive" cities in the world… and we got our hands on the results.
Because, after all, recent research presented by Rosenfeld and Thomas found that just under 30% of hetero couples meet through mutual friends.
So if you're out and about, and don't know anybody in the area–then all the more reason to try and find a new woman you might just connect with!
For example, a 2013 study revealed Switzerland is a great place to find sexually open women–32% of Swiss nationals have had sex in public.
So if you've been wanting to take a vacation — or even just take a quick trip for a weekend — and are interested in a sexy rendezvous while you're abroad…
Then today, I'm going to show you the 10 best places you can go:
10) Amsterdam
With a mean score of 73.65, Amsterdam comes in at #10 on the list of the most sexually positive cities.
And really, is that much of a surprise?
After all, Amsterdam is home to the Red Light District and attracts lots of open-minded tourists every year. So if you've been wanting to visit, but have just been waiting for that little extra push… now might be a good time. 
9) Ibiza Town
Ibiza, also known as Ibiza Town, is well-known as a "party" destination.
And with a sex-positive score of 74.2, the survey reflects this reputation quite well.
If you're a big partier or are into EDM/house music, Ibiza can be a great way to meet hot, younger women who want to party and dance.
However, if you're not much for rave music, then you may want to check out…
8) Las Vegas
Yeah, you probably knew Las Vegas would make this list. And with a sex-positive score of 75.3, it's really no surprise.
Las Vegas attracts the kind of people who want to forget their "normal" lives and live in the moment — this includes pleasurable experiences, like sex.
One of the easiest ways to meet single women in Vegas is to hit up the casinos alone. There you can sit at a table, drink (nearly) for free, and just wait for the women to walk up to you. It's a win-win.
7) Sao Paulo
Feeling adventurous? Try a trip to Sao Paulo, where the sex-positive score is an impressive 75.95.
Located in Brazil, Sao Paulo is not only home to some of the most beautiful women…
But the cuisine & culture also make it a great destination for sight-seeing as well.
So even if you don't end up "getting lucky" while you're there, you'll be sure to have a great time.
6) New York
With a sex-positive score of 77.95, New York comes in at a respectable #6 on this list.
If you live in New York, this may come as a surprise — after all, meeting single women in such a big city isn't always easy (as counterintuitive as that may seem).
However, if NYC is your home base, and you don't have the time (or money) to take a vacation around the world, then it can't hurt to do a little exploring.
Is there a bar in a neighborhood you've been wanting to check out, but haven't gotten around to doing it? Then try going there for happy hour sometime this week — you may be surprised by how many single & open-minded women you meet. 
4) Los Angeles
You may think Los Angeles is home to vapid Hollywood stars and wannabe directors… but there seems to be a little more to it than meets the eye.
With a sex-positive score of 80.9, Los Angeles is the most sex-positive city in the United States, which is pretty cool!
Even if you've never been, L.A. can be a lot of fun if you're flying solo and don't have any plans. Just hit the strip, and see where the night takes you.
3) London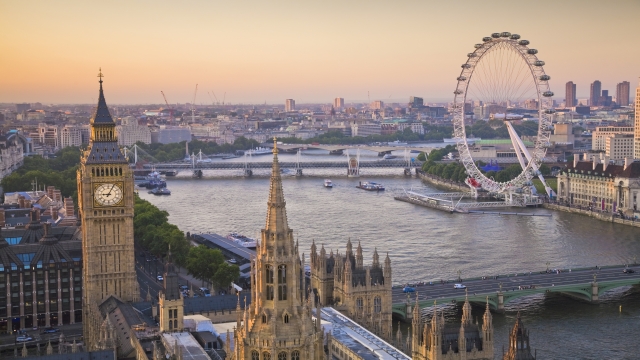 London is one of the largest metropolises in the world, and with a sex-positive score of 84, it's also one of the most open-minded.
However, if you do go to London looking for a one night stand, be sure to skip the dark lager & fish and chips… unless you want to feel uncomfortable in bed later, that is.
Instead, check out a cool night club or a cocktail bar, where you'll find the more "posh" women — many of whom are presumably looking for a handsome American man to go home with. 
According to relationship expert Keith Dent, local charity events are also a great way to meet hot single women:
When you're on a snack break or after the event is over, take a moment to ask, 'What is it about the mission that caused you to get involved here?'"
Another Brazilian city topping the list, Rio de Janeiro scores an impressive 86.15 on the sex-positive scale.
So if you're planning that trip to Sao Paulo, it might not hurt to check out Rio while you're at it. Not only will you kill two birds with one stone…
You may be able to get more than one woman in your bed, too.
1) Paris
It's cliche as all hell, but hey — the numbers don't lie!
With a sex-positive score of 86.5, Paris ranks as the most sex-positive city in the world.
Known as the "city of love," people in Paris value a work-life balance.
This means more time to relax…
Have fun outside of work…
And ultimately, pursue pleasure. Which, of course, includes sex.
A survey of 2,000 women found 82% had admitted to having casual sex; only 19% said they regretted it and most went to a familiar spot to find it.
Plus, many Parisian women actually prefer American guys to French men, who can come off as too "sleazy" or "forward," so the ball really is in your court.
And from there — all you have to do is be prepared to take the woman you want to bed.