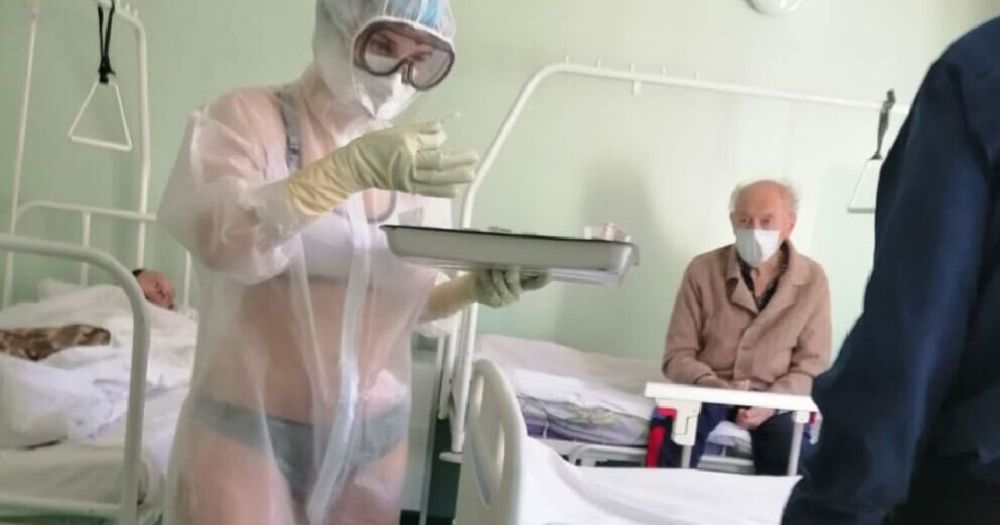 A nurse in Russia found herself suspended from the hospital she worked at after she was seen in an all-male Covid-19 patient ward wearing only bra and panties under her translucent personal protective equipment (PPE).
Nurse disciplined for wearing only underwear under PPE
The nurse, who was working at Tula Regional Clinical Hospital in Tula, roughly 180km south of Moscow, told her managers that she was feeling "too hot" to wear clothing underneath her the protective equipment, NY Post reported, via Tula's local news outlet Tula Pressa.
The PPE consisted of a vinyl gown that was see-through, covering her from head to toe. She also wore protective goggles.
While there were reportedly "no complaints" from her patients, the hospital punished the unidentified nurse for "non-compliance with the requirements for medical clothing."
"Disciplinary sanctions" were taken against the nurse who violated the uniform requirements, the regional health ministry had also said in a statement.
The nurse apparently claimed that she did not realise her underwear could be seen through the protective gown.
The hospital administration previously said that the nurse working in the hospital's infectious diseases department had been wearing lingerie, but later clarified the two-piece ensemble could be a "swimming suit"
Internet users saw no need to punish nurse
While the authorities saw the need to take disciplinary action against the nurse, several readers of Tula Pressa saw otherwise.
According to NY Post, internet user Valery Kapnin commented: "Why punish the nurse? You need to reward her. Seeing this outfit, no one wants to die."
"At least someone has a sense of humor in this gloomy, gloomy reality," said another user.
Some users also praised her, saying that she raised the mood of the patients.
Nearly 3,000 have died from Covid-19 in Russia, with roughly 309,000 cases reported in the country.