Unless you have been living under a rock or hiding out in the woods, COVID-19 has been kicking the world's ass. I'm not old enough to remember the HIV crisis, but I've heard stories about how people were freaking out. But it seems like most folks think that coronavirus is more of a threat to public health than the AIDS bug.
I don't buy any of that, but the panic is obviously fucking up the economy, and the adult entertainment industry is not an exception. Or at least kind of.
In other ways, an easily communicable virus, ironically, is the best thing to happen to the smut business.
While self-quarantining people are consuming some interesting entertainment
I have been laughing my ass off while looking up people's purchases in the wake of the virus. Rather unsurprisingly, Americans are grabbing as many guns as they can, South Koreans are buying up viral test kits, and it seems like everyone is buying as much toilet paper as possible.
As a side, am I the only one who thinks that this virus is part of a scheme by Big TP to make a record-setting profit?
Anyway, while people are holed up in their homes, their ways to distract themselves from the stress of the crisis are limited. Besides binging on Netflix and chilling, porn viewership has skyrocketed.
Porn performers are being hurt and also helped by COVID-19
Since we are all being told to social distance and sex work requires exceptionally intimate contact, the traditional porn industry is effectively closing down in North America. Even before California shutdown the state-wide economy, the adult industry started a voluntary halt to filming in the middle of March.
At first, it was only supposed to last for two weeks, but since the coronavirus craziness does not seem to have any end in sight, the hold on professional porn production might last for months.
Fivestarr, one of the owners and directors of Luster Productions, has said that the voluntary shutdown has put her and her colleagues in the position of choosing between facing a health or financial crisis. The CEO of Kink.com, Alison Boden, has publicly announced that the famous fetish site will not be adding new movies as often.
But there is some good news. Since more people are staying home and there is less competition from the established names, amateurs smut peddlers are getting more attention than ever.
Just within the last month, PornHub has reported a massive spike in viewership and have had hundreds of new models join up and start uploading content.
To keep making money, established names in the industry have started focusing on posting to tube sites and other websites like OnlyFans, too. In both cases, performers tend to adhere to social distancing rules and typically upload solo videos.
You might think that this would make the newest nude entertainment is boring. But since people are creative, particularly those in the porn business, I have noticed a ton of novel ways to get off by themselves.
I can't keep up with how much people in the industry are making these days, but I could track down a few reported facts and figures. For instance, Stripchat has so many wankers that they have been increasing the payout rate for the last few weeks, according to Xbiz.com.
Individual performers like newcomers such as Maitland Ward and veterans like Sarah Vandella have also seen a massive increase in viewers as well as revenue. In the cases of both of those women, they have said that they have a surprising sense of job security even a bit more than when they were relying on studios to get their work published.
Similarly, trans and male performers like Alex Jenny and Ricky Roman have said that they have acquired a flood of new fappers who not only watch but are willing to pay to watch their porn.
Furthermore, some people are taking advantage of this situation to not only make money but explore and push the bounds of their sexuality. In the case of Jenny, her new kink content is going to be a mix of drag, androgyny, and, as she transitions, a documentation of her change in gender identity.
And now we have a coronavirus fetish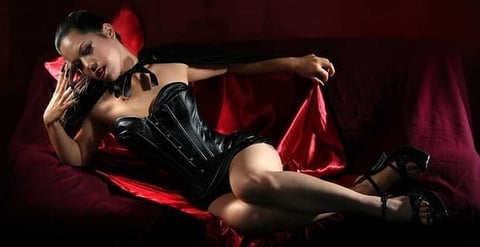 Just like governments never let a crisis go to waste, the porn industry always finds a way to come up with a kinky take on a trend. So, yeah, there has been a bunch of COVID-19 videos cropping up all over the internet.
At first, I thought it was weird. I mean, what kind of sick fucker finds a fetish based on a virus to be sexy? But after doing my research, I have to say, I have become a bit of a fan.
Even if you don't fap to their videos, they are still worth watching all of the ways through. You certainly aren't going to look at a hazmat suit the same way.
This seems to have inspired a ton of others since there are over a thousand videos with the term "coronavirus" and millions of searches for similar terms. In addition to safety suits, these videos show off people wearing surgical gloves, face masks, and sexy nursing outfits.
Want to start making bank, too?
Damn near all of us are suffering during this crisis, and as hard as it sounds, that includes me. I mean, my weekly hookup rate has gone down by half of what it normally is. I'm down to about seven or eight lays now.
Anyway, I do think that you can make lemonade out of lemons in any situation, this disease-driven one included. So, if you want to make money during the COVID outbreak, you can start broadcasting your self on a cam site.
And you won't need too much to get started. As Sarah Vandella was quoted in an article published by TheWrap "[all you need] is some decent light, a decent cellphone, and a good personality. It helps if you have props and toys and a cute background and such, but not every content piece has to be some elaborate set design."
Since most people own a computer and a smartphone, you will probably need to spend, at most, about $100.
final words
As always, if you think that your content is hot enough to get a review from me, send me an email and some links to your work. I do promotions for hot performers all of the time, and thanks to COVID, I have even more time to watch and critique porn.